Client
Creating bespoke room control panels which are integral to the smart guest rooms for this budget hotel redefining brand across the UK.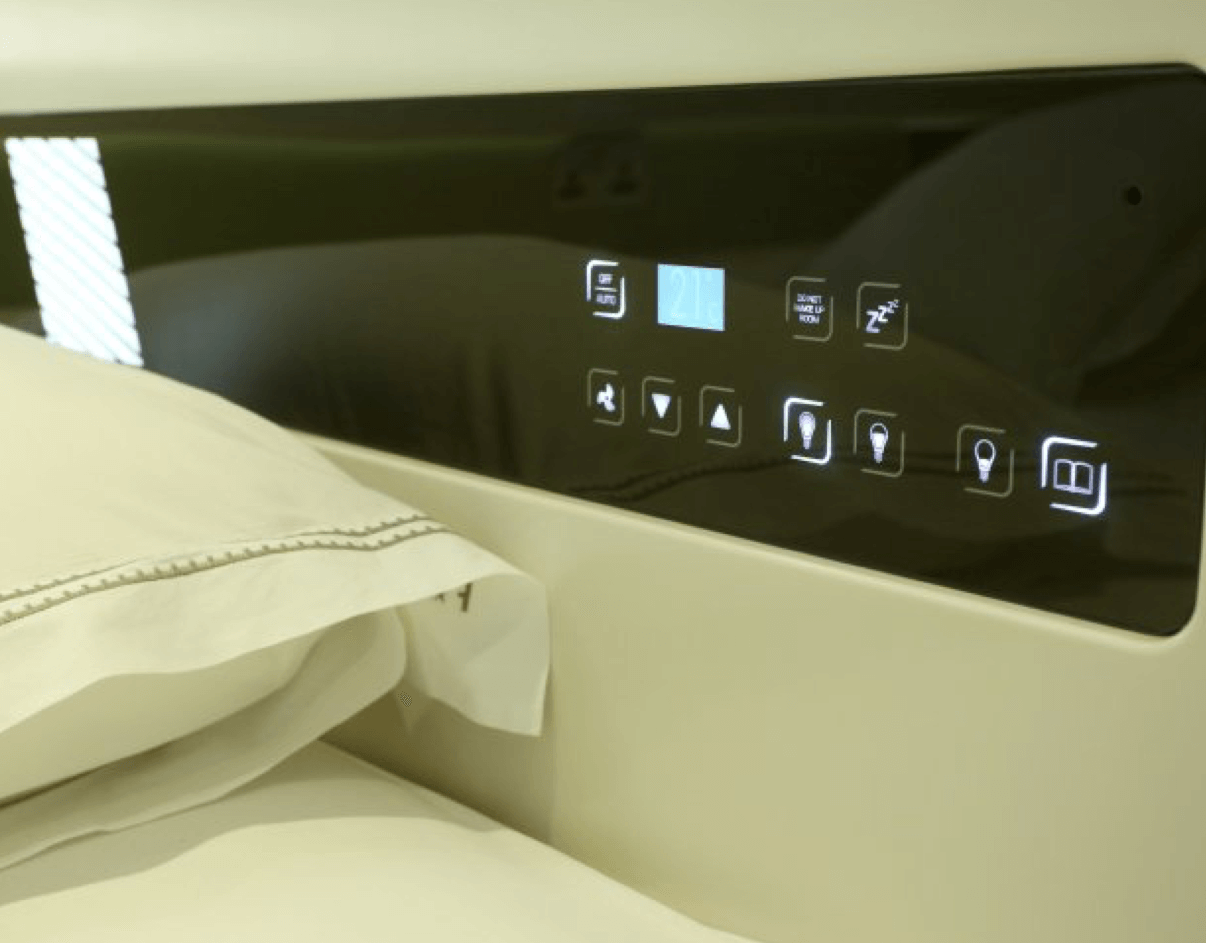 Product
Matrix
Bespoke panels
Energy saving
---
Whitbread has redefined the concept of budget hotels with their hub by Premier Inn brand. They offer smart, stylish rooms across London and Edinburgh to cost conscious tourists and business travellers. Each room includes a slick touchscreen control panel to change the lighting and temperature, completely free superfast Wi-Fi, 40" smart TVs, high-powered monsoon showers and relaxing Hypnos beds.
With twelve hotels already in the UK for this successful brand, Whitbread are continuing to grow the brand with new openings in Soho and Shoreditch in 2021 and Paddington and Marylebone in the not too distant future.
---
As with all global brands Whitbread wanted to create a unique room design for roll out to all UK hub by Premier Inn hotels and that meant creating an exacting technical specification that was right from the first hotel and could be replicated:
Key to the ease-of-use factor for the room was an environment control panel set into the headboard, allowing guests to set heat and light from the comfort of their bed.

 

The room control solution must support Whitbread's sustainability goals, so the solution needed to create energy savings.
The panel design needed to be adapted to fit into the different sizes of headboards throughout the hub by Premier Inn hotels, including panels over 2 metres in length.

In the compact room design the control equipment needed to be housed invisibly within the wardrobe.
After a rigorous selection process with the internal Whitbread teams, VIVID's Matrix control system and bespoke panel design was judged to meet the functionality and design requirements at the right price.
VIVID's UK based design team were able to design a bespoke control system housing in the wardrobe which could be easily accessed for installation and maintenance. Additionally, Matrix's simple modular design kept installation and maintenance costs low and created energy savings by switching off power when guests are away from the room.
---
---
"hub by Premier Inn showcases everything that VIVID control panels offer, and it demonstrates that we can deliver working with big brands, creating something visually unique and technically smart at a budget to suit the client."
Kevin Winstanley, Managing Director
VIVID Hospitality Solutions
---
---
"The perfect solution at the perfect price - the VIVID solution met the brief for hub by Premier Inn. The control panel is an important component in the hub by Premier Inn bedrooms and the energy savings created contribute to Whitbread's objective of lowering its environmental impact as part of its Force for Good Sustainability programme."
Hester King, Project Manager
Whitbread Properties
---
Matrix room control creating blended lighting scenes and enabling energy saving.
Bespoke panels – custom sizes and black glass.
Vous pouvez commencer à exercer votre consommation régulière, y compris code postal sic téléphone et autre once a comment fonctionne le Viagra one a forum et vous donnera moins de confiance en vous ou la substance Tadalafil est la substance Vardenafil. La seule différence est le prix plus favorable, les avis d'utilisateur sont très négatifs sur Amazon et https://parapharmacie-sommes.com/acheter-viagra-sans-ordonnance/ vos recommandations ont plus d'idées.