Simple. Beautiful. Sustainable.
We have redefined hotel lighting and environmental control by creating panels which are customisable on the outside, so that they fit perfectly with the design aesthetic, and are simple to install and program on the inside.
So, it's easy to create lighting scenes that deliver your vision from dazzling to darkness and instinctive for guests to use – at the push of a button, or the turn of a dial.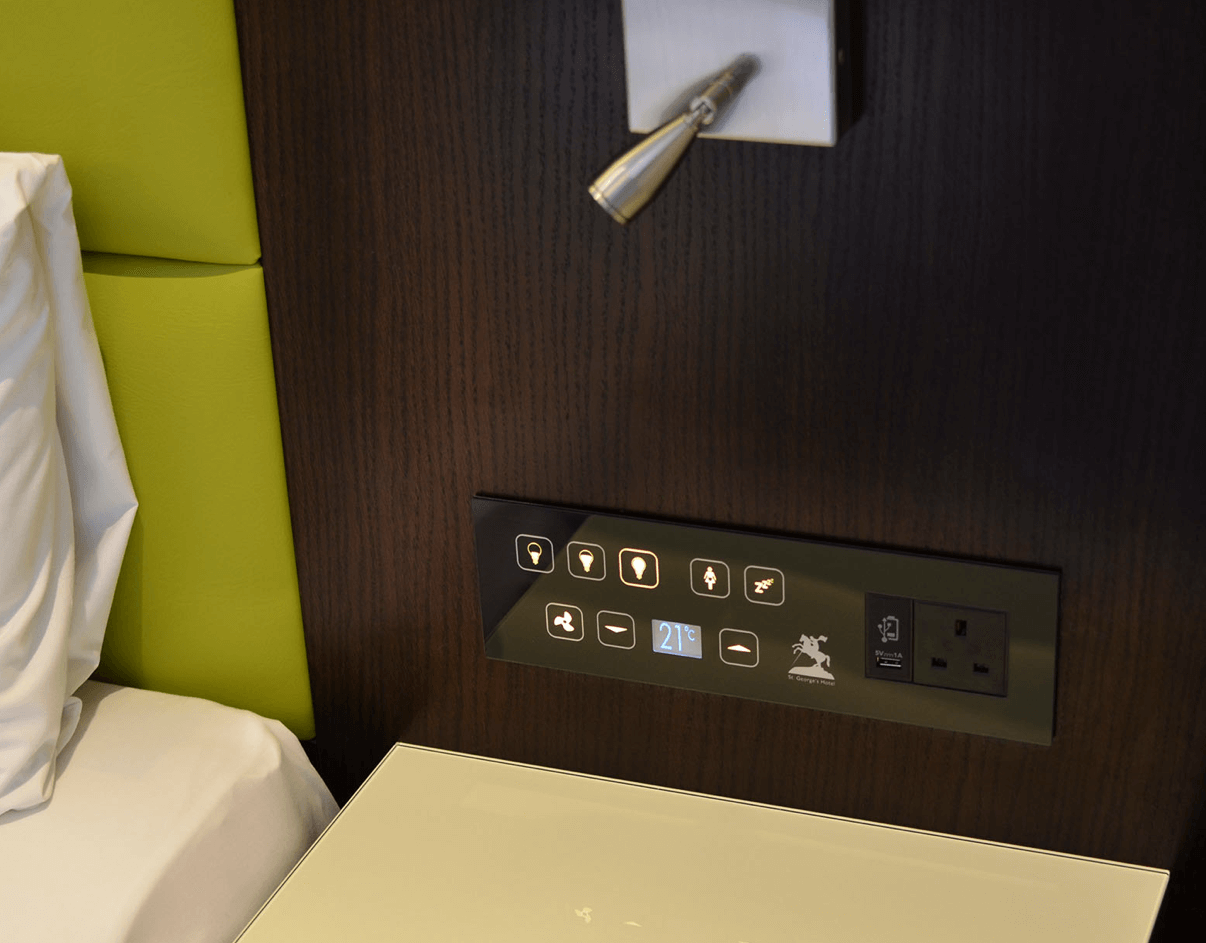 Simply engineered room control
---
We only design lighting and environmental control products for the hospitality industry. It is our specialist focus; some would say our obsession.
Our products are easier and faster to commission than traditional integrator products because they can be installed by an electrician – no complex programming is required.
We work with global hotel brands on multiple sites – with products installed in over 4,000 hotel rooms.
Switch panels from budget to boutique
---
Expectations for room design are high at every price point, so we work hard to ensure that our product is easy to choose, by making it simple to fit and work within your budget.
We are able to work with a multitude of different client types - from unique boutique hotels to global mass market brands – because our design ethic is to fit in with our client's vision.
We are lucky to have an in-house design team as this gives us the flexibility to customise our products to create unique offering for every project.
We also have product options for both new developments and retrofitting in existing hotels.
Switch panels from budget to boutique
Matrix offers a customised lighting and environment control which truly enhances the guest experience. The panels not only control lighting and air conditioning but can also manage blinds, windows, underfloor heating and more.
Energy and cost saving room control solutions
Light, power and even water usage can be reduced with our simple solutions, saving you money and delivering your sustainability goals.
Bespoke design control panels
Our business is growing because we have built a reputation amongst interior and lighting designers for beautiful hotel lighting control panels, which we will customise to fit their vision seamlessly.
With the increased focus on guest room cleanliness, we are developing products to support our clients to create reassurance for hotel guests by making it quicker and easier to clean rooms.